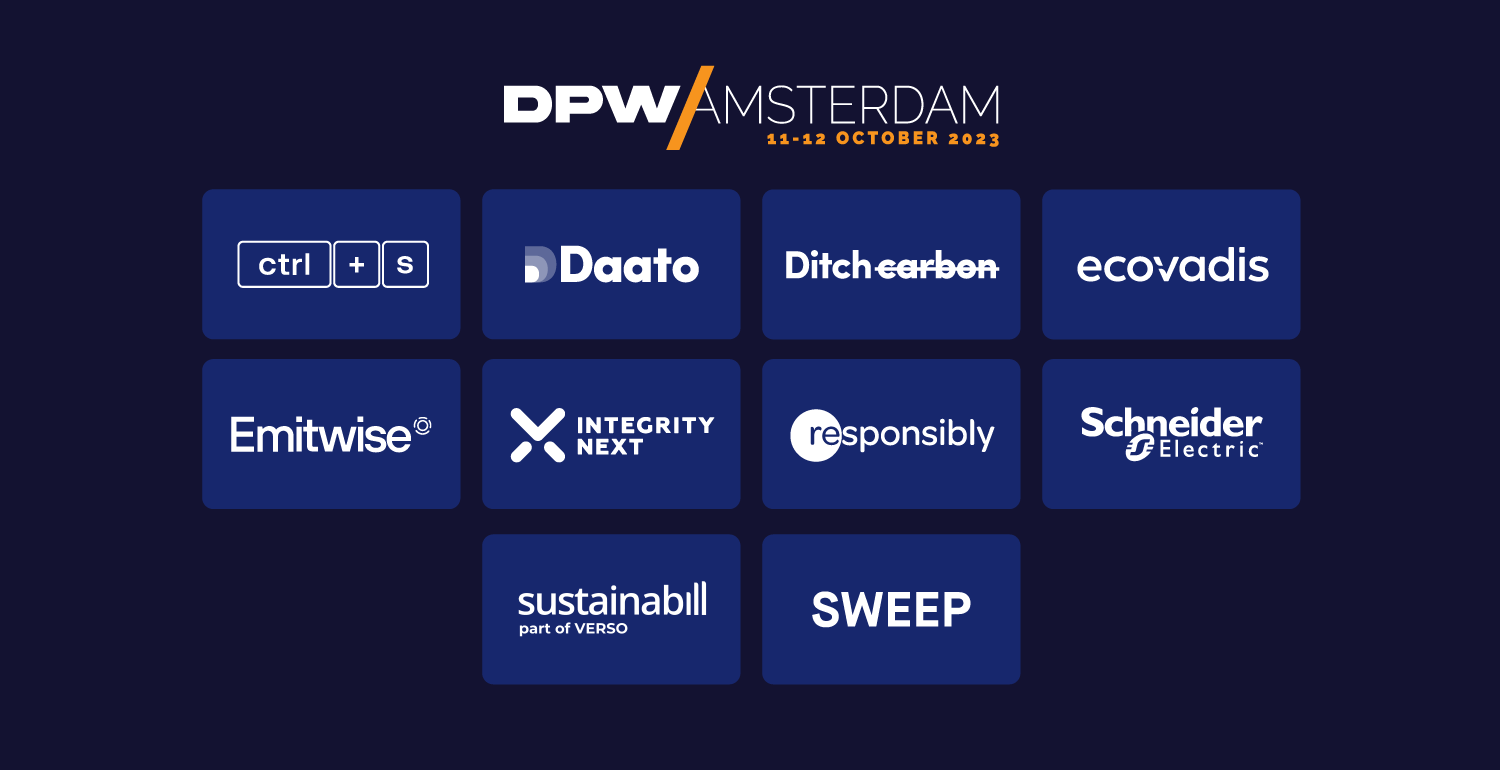 For 2023 and beyond, sustainability goals remain procurement's top priorities.
The transition to net zero and sustainable, ethical supply chains requires the right partners and enabling tech. Procurement and supply chain companies are in dire need of ESG solutions, including DE&I, and especially for Scope 3 and Tier-n goals.

Here are the sustainable procurement startup solutions you'll have a chance to meet at DPW Amsterdam 2023.


ctrl+s
Ctrl+s is a carbon solution which enables companies to easily and rapidly reduce their sustainability impact.

Daato
The engine that powers sustainable organizations — Daato provides all the tools one needs to move from compliance to taking actions to improve your sustainability performance.

DitchCarbon
DitchCarbon drives climate conscious decision making in the tools you already use. We do this by capturing emissions data on companies and products at scale then inserting them into your existing procurement stack making it possible to consider carbon at every stage of your procurement process.

EcoStruxure Resource Advisor (Schneider Electric Sustainability Business)
EcoStruxure Resource Advisor sets you up to succeed in ESG and make decisions for a better tomorrow.

EcoVadis
A provider of business sustainability ratings, since its founding in 2007 EcoVadis has grown to a global network of more than 100,000+ rated companies.

Emitwise
Emitwise takes the creativity out of carbon accountancy with an easy-to-use platform that accurately measures, tracks, reports, targets and reduces emissions across the supply chain.

IntegrityNext
IntegrityNext helps companies build more transparent and sustainable supply chains to meet the demands of an economy undergoing rapid change and fundamental transformation.

Responsibly
Responsibly's mission is to build the technology infrastructure to enable every procurement hero to source responsibly at scale.

sustainabill – part of VERSO
The sustainabill cloud platform helps procurement and CSR teams to create transparency along their supply chains, to implement sustainability and due diligence requirements and to achieve net zero targets.

SWEEP
Your carbon on track: SWEEP helps businesses track and act on their carbon, so they can become forever companies.

Ready to find the right solution for you? Join us at DPW Amsterdam 2023! Get your tickets here.